Cloud data warehouses and their management accelerated in 2020. Is this an effect of Covid-19 or a natural trend that started several years ago? It's not easy to say, but vendors have jumped into it promoting business agility and cost reduction.
As data volume explodes, leveraging an automatic scalable storage infrastructure is one of the key reasons for cloud data management acceleration, capturing data from various sources. But this has added complexity around importing, aggregating, modelling, indexing, searching, analysing and querying all this data coming from different horizons.
Multiplying tools for each step of the workflow increases the time to result, with some risks on the integration of all data sources. Datameer addresses the need for data movement and consolidation with its Spectrum product, a new generation ETL — Extract, Transform and Load — a key component for a successful data processing environment. This data pipeline supports more than 200 data sources and load data into Snowflake, Google BigQuery, Azure Synapse, Databricks and AWS Redshift with a specific angle on security, compliance and governance.
The product is ready to use without any code to embed or develop, it's not an API either, with just the capability to point and connect to any sources towards massive cloud data warehouses.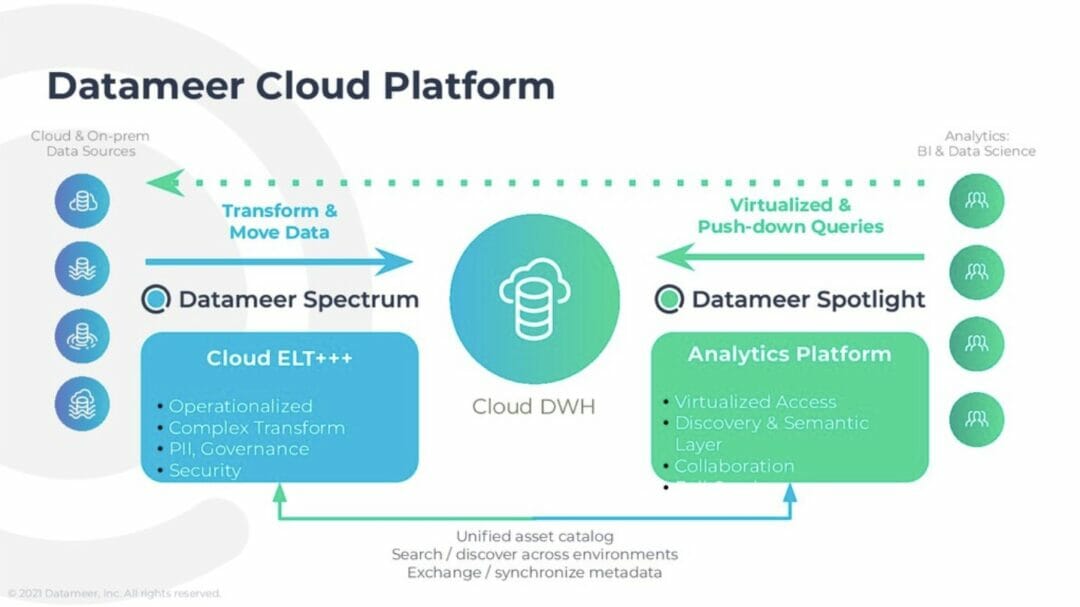 The second element developed by Datameer in its Cloud Platform is Spotlight, which is an advanced analytics layer creating a virtualised access to all data coupled with a sharing capability. Connected to on-premises, hybrid or cloud data warehouses and more globally data lakes, even S3 object stores, the product presents a single unified self-service instance that invites data consumers to extract information and collaborate on projects.