As co-founder of Perlego, CTO Matthew Davis has needed to build his tech team from the ground up, and believes in a bottom-up approach to delivering tech strategies. With just over 30 staff members being part of the engineering team, getting them on board with new ways to utilise technologies means involving every employee, and receiving feedback from them.
"As a team, we can reflect on what did and didn't work well for us in the past, and use that to look at where we want to be in the future, and what we want to change," said Davis.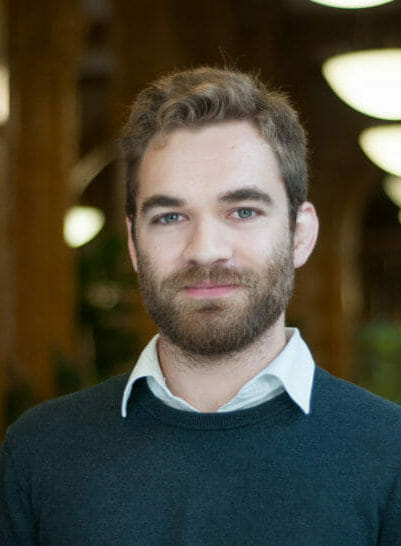 Starting out, decisions were made centrally with a top-down approach. This led to developers moving IT help tickets across the board, preventing the possibility of scaling up. Additionally, the shift to a bottom-up strategy led to employees being more empowered to advance operations.
When incorporating input from the wider team at Perlego, the CTO has found that problems identified previously can be solved by a new tech strategy. This, alongside frequent reiteration of core themes, such as quality and reliability, mean that it's more likely that the entire workforce will get on board.
Davis continued: "Quality and reliability were two of the big themes of our strategy last year, which we called 'Quality 2020'. It's super simple, but it stuck.
"We've been repeating this to the point that it's now clear in everyone's minds, resulting in everyone knowing to follow and incorporate the strategy, leading to fewer critical issues."
Davis also believes that being data-driven is vital in helping all employees realise the value in the strategy. Using data to demonstrate the decisions that are being made can increase organisation-wide confidence in initiatives.
What organisations should expect next in the evolution of data

Andrew Daniels, CIO and CISO at Druva, discusses what organisations should expect next in the evolution of data in 2021. Read here
Search and chat deployments
As an online library, flexible and intuitive search technology is crucial to the customer experience, and ensures that learners can find their desired resources first time. From here, search histories can paint pictures of individual personas, which enable the organisation to make relevant recommendations. For Perlego, the key to delivering this core aspect of its site is the use of AI-powered search product Algolia.
Having previously used Elasticsearch from AWS, Algolia became the preferred search platform. With Davis and his team finding that any needed tweaks to the algorithm called for technical skill sets when using Elasticsearch, Algolia has proved easier for more members of staff to maintain search processes.
"Algolia provides a really nice dashboard that allows non-technical people to come in to tweak and test the algorithm," said Davis. "This has drastically improved the search on our platform and delivered tremendous value."
How Apple's pending search engine hints at a rise in enterprise search

Stéphane Kirchacker, vice-president EMEA at Sinequa, discusses how Apple's emerging search engine hints at enterprise search being the next tech battleground. Read here
Another particularly valuable deployment for the CTO of Perlego has been its on-site chat support feature, a common technique for delivering 24/7 help to browsing users. In this case, conversational relationship platform Intercom was chosen to facilitate this aspect of customer service.
Davis explained: "This has been really good at building good relationships with our user base. I believe that's led us to good reviews on sites such as Trustpilot, as we've proved to be quite responsive and able to help users through technical problems."
Managing technical debt
But being a burgeoning online library startup, founded in 2016, the early challenge of technical debt came with the need to cut corners to ensure delivery of services on time. According to Davis, this is a pitfall that needs to be managed over time, and isn't something that can be entirely overcome.
Explaining how effective management can be achieved, he said: "It's all about finding the right balance, depending on the size of your company.
"We ended up completely refactoring and rebuilding the startup code. As your user base grows, you need to get your platform to a point where it will scale well, both in terms of scaling up the amount of development teams while ensuring they don't step on each other's toes, and in terms of being able to withstand higher volumes of traffic."
Realising that a rethink of its software architecture was needed, the team looked to move progressively towards a more scalable environment. With the issue of technical debt continuing to arise, each team has a day every two-week sprint to focus on continuous improvements to the architecture, and any larger pieces of debt that can't be resolved in this time period is taken in for further development.
Learning to love technical debt

Jyoti Mokal, VP of Zipari, explains how taking on the right kind of tech debt helps you deliver products on time – and impresses investors. Read here
Lessons learned
Looking back, Davis believes that early on, the team at Perlego did not focus enough on DevOps and being data-driven as they needed to. With the inevitability that is technical debt, issues with reliability can become common if continuous integration and delivery aren't carried out.
According to Davis, "we didn't pay enough attention to DevOps in the beginning, and that could have saved a lot of pain".
As for being data-driven, which along with DevOps were key best practice aspects that Davis believes any aspiring CTO should keep in mind, data collection and analytics are areas that need to be developed early on. Putting this in place can ensure that employees can monitor performance in real time and find issues to fix before they impact customer experience.
"Every department improves when decisions are made from looking at the data, and the only way to build a successful strategy is to be data-driven," said Davis.
How to achieve agile DevOps: a disruptive necessity for transformation

Three experts explain how organisations can achieve agile DevOps. The process is disruptive, but entirely necessary for transformation. Read here
Another lesson learned in the early days of Perlego was the lack of prioritisation and focus when decisions on what to build were made by key stakeholders, a process that Davis said led to the tech team "comparing apples to oranges". After shifting from a feature-based roadmap to a goal-based roadmap, however, software developers can now work to targets with measurable and unanimously agreed outcomes.
"Some of the goals we've been working towards over the last year were around increasing the conversion rate, increasing organic growth, and helping users to find more relevant content," said Davis.