Would you want your coffee order brought to your table by a drone, or drones sorting your Amazon packages in the delivery warehouse…or even drones helping you find things in your house?
Definitely not as far-fetched as it sounds – in fact it's already happening, and the commercial use cases for drones as part of the smart city of the future are both strong and realistic.
>See also: How can drones power the offshore oil and gas operations?
Philips Lighting believe that autonomous drones and droids will become a daily part of life, and are likely to respond to voice commands and have a social aspect, capable of interacting with and serving the different needs of citizens. As for domestic drones (those in the home), the benefits are many – you may never lose your keys again.
This isn't just a fad either. A report in May 2016 from consulting firm PwC estimated that, by 2020, about $127 billion worth of labour and business services could be replaced by drones.
So we'd better get used to drones, robots and droids becoming a part of our everyday lives.
Uses – now and in the future
So where might we see drones starting to perform commercial tasks in the immediate future? The possibilities are numerous, and will only continue to grow as the technology becomes more and more sophisticated. But as it stands, there are a few industries where the potential really stands out: hospitality and logistics.
In the hospitality and leisure sectors, it's entirely conceivable that drones will become the waiting staff of the future – able to take food or drinks orders, relay this information to the human baristas or chefs, and collect and deliver the product…all without the need for human interaction. In fact, trials of this concept are already underway at a 'Drone Café' in Eindhoven, with drones autonomously delivering drinks orders to tables – you can see the video of this in action here.
A similar usage, and where we predict drones to have the best and first real-life implementations, is within the logistics sector, across warehouses and large department stores.
>See also: Are drones set to become the biggest threat to national security?
There has already been a lot of talk from the likes of Amazon around using drones to deliver packages – the next step is the use of autonomous drones behind the scenes, collecting packages and goods before ensuring they are stored accurately and efficiently.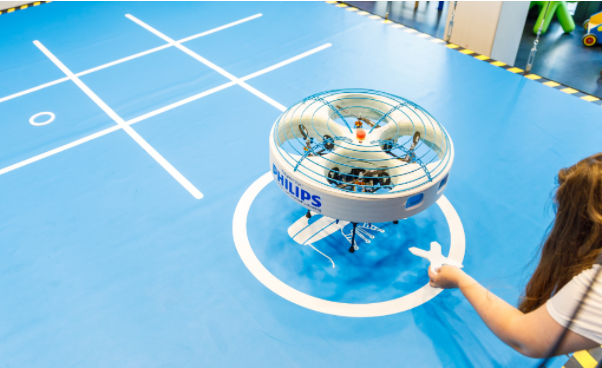 While these are two of the most likely uses of drones, the potential is huge. We here at Philips Lighting were recently involved in a demonstration at the Maxima Medical Center in Eindhoven, working with BlueJay – a student team from the Technical University Eindhoven – to produce the world's first autonomous indoor domestic drone, capable of playing tic-tac-toe with children admitted to the hospital.
>See also: Can drones be taken seriously in the supply chain?
This, if developed properly, can produce significant benefits in terms of freeing up hours dedicated by overworked medical staff to menial tasks such as taking water to patients.
So how does it work?
Understandably, the first question that comes to mind when discussing entirely autonomous (i.e. unmanned) drones within the labour market, and particularly indoor environments, is: are they safe?
Absolutely – if the right combination of technology is used to ensure the drone can navigate accurately and safely. Drones must be equipped with cameras and sensors to be able to adapt to the surrounding environment, but more crucially – they need to be able to accurately locate themselves with regards to the space in which they operate. There are also no privacy issues here, as the cameras located on the drones do not record, as with many consumer versions available on the market today.
This is where visible light communication (VLC) technology comes into play. Essentially, this technology enables lights to transmit their location. This is achieved by a modulation of the light which can't be seen by the human eye…but is detectable by smart devices. In layman's terms – this technology allows the lights to form a grid that can be seen by drones, acting like mini GPS satellites and enabling them to plot their locations and trajectories.
>See also: Autonomous drones in the oil and gas industry
Of course, the drones wouldn't solely rely on VLC to guide them. As mentioned, they'd use multiple inputs such as cameras and other sensors to navigate safely and avoid objects. Furthermore, their CPUs will collect images and, most importantly, learn – so that they can recognize requested objects and steer past obstacles.
And the finishing touch…they will be equipped with versatile gripper systems and stabilizers so that your cappuccino does not end up in your lap, or your parcel end up on the warehouse floor.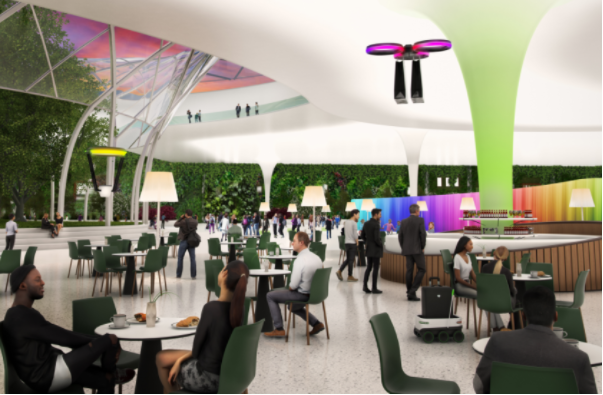 VLC technology is not a new concept – it already has applications across many industries, particularly in retail where it can form 'grids' of the shop floor. This in turn allows shoppers and staff to accurately position themselves within the store, and also offers retailers the opportunity to push offers to consumers based on specific locations.
>See also: New UK drone safety regulation: is it enough?
What is new is the application this has for drones…and more importantly: the opportunities this can unlock. The commercial potential here is real – as demonstrated already by the drone café, and the trial with BlueJay at the Maxima Medical Centre in Eindhoven. It's only a matter of time before this type of technology becomes mainstream – all thanks to lighting technology.
Sourced from Onno Janssen – technical lead, Indoor Positioning & Visible Light Communication – Philips Lighting