How can governments encourage their traditional industry SMEs to go digital? Well, it's a significant challenge — they often have a lack of power, resource and knowledge; the SMEs that is. It's an important mission as well. In Singapore, for example, SMEs make up 99% of companies, two thirds of the workforce and contribute to 50% of the country's GDP.
"If we don't enable SMEs to go digital it's not a true digital economy and not everyone will benefit," said Ms Jan Lim, IMDA's assistant chief executive (Sectoral Transformation). "But, every sector and business can go digital: SMEs can go digital."
The IMDA: two years on — "trust and innovation are two sides of the same coin"

Following the inception of the Singapore government's IMDA department two and a half years ago, it's chief executive believes trust and innovation go hand-in-hand. Read here
Digital SMEs
Tech adoption for SMEs in traditional industries is at a very low-level compared to tech native companies, governments and larger enterprises.
To help turn this on its head, the IMDA launched a programme called SMEs Go Digital in 2017 — since it's inception, approximately 4,000 small-and-medium enterprises (SMEs) have adopted pre-approved digital solutions. The programme was expanded this year to help raise further awareness of how technology can impact these businesses in traditional industries.
But, how do you approach this: the messenger and the message.
"The messenger has to be someone these companies can relate to," said Tan Kiat How, the chief executive of the IMDA. "It's no good if these people are not from the same industry or an industry leader."
What about the message? "It has to be simple, the next step and not about new technologies, like AI or blockchain. How can we use technology to improve inventory management, for example," asked How? "It has to be small steps."
Awareness, messenger, message and uptake
Singapore, somewhat uniquely, has SME centres where consultants can help in shining a light on this digital path. Part of IMDA's SMEs Go Digital programme, these centres can help create digital journeys based on previous SME examples, in similar situations, that have then gone onto bigger things.
Key: making sure solutions are interoperable, where data can flow between: POS, HR, Inventory etcetera
"Half the battle is won," said How. "SMEs have to want to do something. They now see the opportunity — this is the most important piece of the puzzle.
"The adoption of tech makes things easier — buying, selling and creating."
But, he continued: "We have to respect SMEs who have other priorities. Just because they say no now [they might be embarking on another business transformation], doesn't mean they'll say no in the future, when they are able, willing and ready to embark on a digital transformation."
The IMDA is optimistic about this programme, but as Koh Li-Na, assistant chief executive, planning and digital readiness, IMDA said: "the size of the problem is very big. We need to build on momentum."
Going digital: revolutionising engagement, not just technology

How have data needs evolved, and why do organisations need to put customer engagement first, rather than simply going digital for the sake of it? Read here
Start digital
In Singapore's mind, every business needs to be digital. And, to realise this, they should start from day one.
"We want fledging companies to work with partners to embrace digital from the get go; where banks and telcos can offer suites of digital services from the beginning — marketing, HR, payments etcetera," continued How.
SMEs Go Digital
SMEs in traditional industries are unlikely to have an innovative IT department, or a CIO to lead the digital charge. "The IMDA is the national IT department for SMEs," half-joked Lim.
To help SMEs embrace the digital, the programme has developed, sector-by-sector, industry digital plans, which have three stages:
Is your business digital-ready — present one of eight industrial digital plans for; retail, logistics, security, environment services, food services, wholesale trade, media and sea transport.
How do you get started — IMDA recommends pre-approved digital solutions from a variety of partners. SMEs, initially, can choose two out of five categories, which receive a 70% government grant, in: accounting, HR, digital marketing, digital transactions and cyber security.
Where can you get help — for those that are not ready, the programme includes SME centres — consultancy services.
In action
Over the last year and a half, the IMDA has been focused on the digital transformation of a number of neighbourhoods and the traditional SMEs that reside within them: retail, dining, drinking and sightseeing.
Kampong Glam is one such neighbourhood.
• Phase 1
Discovery, productivity and convenience.
In phase 1, the IMDA in partnership with One Kampong Gelam — the trade association for merchants in the area — launched five digital initiatives:
StarHub, for integrated and modular point-of-sale solutions. This provided payment flexibility for merchants.
Grab, for e-payments capability. This provided mobility to bring in traffic (footfall) and led to higher conversion for merchants.
Temasek, digital maps. This provided greater knowledge and detail of merchants in the area.
LocoMole, the navigational tool. This navigational tool uses AR to guide tourists and locals around the neighbourhood; revealing promotional discounts and narratives about cultural destinations in the vicinity.
Riverwood, logistics. This helps create a better experience for visitors, keeping them in the area longer.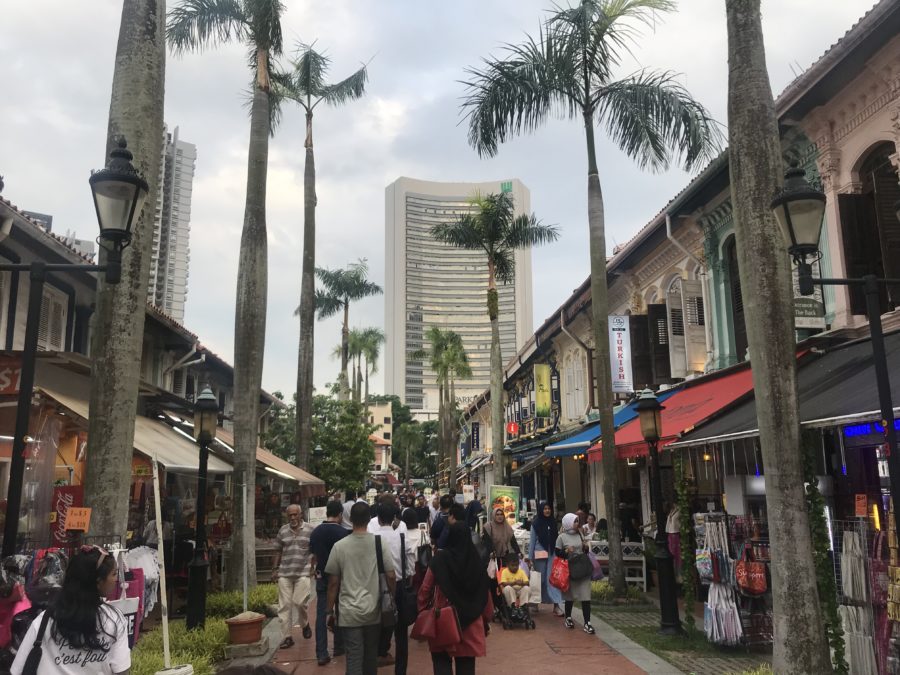 Larger companies might need more advanced solutions, but for smaller businesses that have no digital experience, these solutions provide a supported model to transform how they operate. The support and the tools enable them to grow their business, by curating and enhancing the shopping experience through augmentation.
• Phase 1
e-Commerce.
The next stage is to draw in online traffic, so that merchants can sell in this medium, as well as offline. How can they achieve this? First, they need to be more visible (digital signage) and second, they need to get on more channels (digital marketing) to create more opportunities.
What's in it for the tech companies?
Once approved by the IMDA, the tech companies and solution providers have access to the thousands of businesses that make up Singapore's tech ecosystem.